NEW PHOTOS
THIS MONTH'S FEATURED SURFER PIC
-SCOTT MCBRIDE -
...captured by SURFSHOTS at Black's....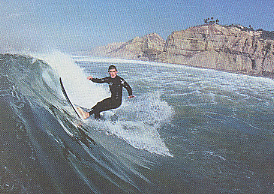 ...your PHOTO can also appear here. If you have a photo taken at Black's, then you may download it to us. We'd also like to have stories, events, etc. that you know about sent for publication here, as a nice way of Black's alumni, newbies, and curiosity seekers to all have a common meeting place on the WWW !
...here's the latest SNAPSHOT of the beach from THE LIVE CAM...
IT'S UPDATED FREQUENTLY DURING DAYLIGHT HOURS EVERY SINGLE DAY OF THE YEAR
...read the top bar above photo to see time of last pic...


...photo not available during nighttime hours 9 PM - 6 AM
FRIENDS OF BLACKS on Vacation !
(sned digital photos for this section, or for "Visitors To Black's", to jean_r@mailcity.com in jpeg or gif file formats under 100K preferred)